Mumbai . The third meeting of the Indian National Development Alliance (INDIA) of opposition parties was held in Mumbai. On September 1, the second day of the meeting, the coalition announced a 13-member coordination committee. Later it was said that the name of a CPI(M) member would also be included in the committee. After this there will be 14 members in this committee.
After the meeting of the opposition was over, a press conference was held at 3.30 pm. Information about three resolutions was given in it. These include holding rallies of the alliance across the country and forming a coordination committee, keeping the theme of the campaign 'Jogeega Bharat, Jeetega India'. Lalu Yadav said in the press conference – We have taken a pledge that we will die only after defeating Modi ji.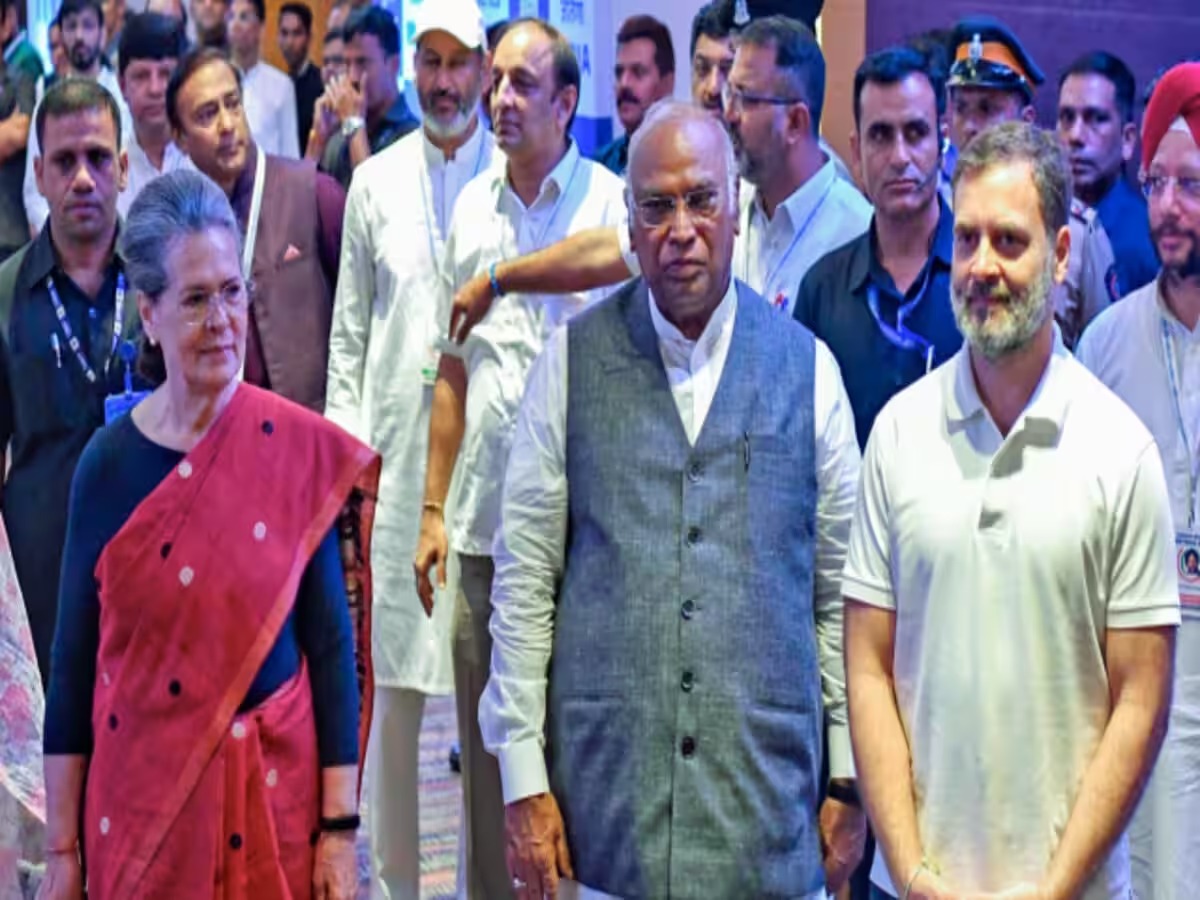 Uddhav Thackeray
We will hold alliance rallies across the country. The theme 'Jangega Bharat, Jeetega India' has been decided. A coordination committee has been formed. We all have decided that we will fight against dictatorship and rhetoric in the coming elections. We had heard – Sabka Saath, Sabka Vikas. After winning the election, friends got kicked and their development happened. There is panic among the opponents due to our unity. We will fight against friend familism. Don't be afraid, we are going to make a fear free India. After all, why has the government suddenly called a special session of Parliament?
Mallikarjun Kharge (Congress President)
Everyone's objective is the same, what will Modi do for inflation, what will he do for unemployment. The prices of petrol and diesel are increasing. Modi ji increases Rs 100 and reduces Rs 2. LPG prices have doubled, but they reduced it by Rs 200.
To reduce Rs 200 to show people and say I work for the poor. Modi ji will never work for the poor. They work together with big industrialists.
Only yesterday Rahul Gandhi had put out a report on how Adani's wealth increased.
Be it CBI or ED, every autonomous body is being misused, this has never happened before.
To fight against this, it is necessary for India to win. We all are sitting on this platform only to make India win.
We will go to every state capital and hold meetings.
Modi ji tells lies, but people consider him to be the truth. We have to expose this.
Nitish Kumar (Chief Minister of Bihar)
Once you get freedom from him (PM Narendra Modi), then you press people will be free, then you will write whatever you want.
Nowadays it is seen that he is not doing any work but his praise is being published.
They want to change the history of the country, we will not let them change the history.
Will uplift everyone, will not allow discrimination against anyone. Everyone has to move forward.
Know that they can conduct elections anytime. We have also discussed this. Preparations have also started.
Arvind Kejriwal (Chief Minister of Delhi)
This India Alliance is not an alliance of a few 26-27 parties. This is an alliance of 140 crore people of the country.
The Modi government in the country is a very corrupt and arrogant government. We are reading that it is being published in foreign newspapers. A man (Gautam Adani) is taking money abroad and PM Modi is helping him. The entire government is busy working for one man. These people (Modi government) have started considering themselves bigger than God.
Seeing the strength of India Alliance, now these people will fight among themselves. Everyday news will come that this happened in our place, that happened. I am saying with responsibility that very good things are going on here. No one has come here for any position. Everyone has stepped forward and taken responsibility. Someone has taken the responsibility of seat sharing, someone of media management, someone of social media.
Lalu Prasad Yadav (Former Chief Minister of Bihar)
I am very happy that we leaders of different parties of this country were sitting separately. We were not one. The country had to suffer its consequences and Modi took advantage of it. By continuously fighting the battle, we have come to a point where we have all reached a conclusion and a pattern has been formed. From the beginning, we have been fighting this battle to remove the BJP and save the country. Minorities are not safe in the country. Inflation and unemployment are increasing. Okra has become Rs 60 per kg, how expensive has tomato become?
You all will remember how much these people came to power by telling lies. My name was also there at that time, and I had publicized the name of the leaders of the country that the money of these people is in a Swiss bank and we will bring this money and help the country. Rs 15-15 lakh will come into the account of every citizen.
We also got the account opened on the pretext. We, including husband, wife and children, become 11. Now multiply this by 15. Not a single penny came. All these people had money. We have got so many operations done that there is no trust. It is with the blessings of all of you that we are alive and my courage is very strong even further.
We are appealing to the scientists of ISRO and the scientists of the country to send them to Surya Lok instead of Chandralok. I salute the journalist brothers, we will fight this fight unitedly and by putting everyone forward, there will be seat sharing.
We have resolved that we will die only by removing Modi ji.
1 CM, one deputy CM, two former chief ministers in the 14-member committee
1 CM, 1 Deputy CM, two former Chief Ministers, 5 Rajya Sabha and 2 Lok Sabha MPs have been given place in the opposition committee. Apart from this, two leaders from the Left have been included in the committee. Jharkhand CM Hemant Soren (JMM), Bihar Deputy CM Tejashwi Yadav (RJD) are in the committee. Two former chief ministers from Jammu and Kashmir – Omar Abdullah (NC) and Mehbooba Mufti (PDP). Five Rajya Sabha MPs – KC Venugopal (Congress), Sanjay Raut (Shiv Sena UBT), Sharad Pawar (NCP), Raghav Chadha (AAP) and Javed Ali Khan (SP). Two Lok Sabha MPs- Lalan Singh (JDU), Abhishek Banerjee (TMC). One member from D Raja (CPI) and one member from CPI (M) have been included. The name of the CPI(M) member has not been announced.
logo not launched
The logo of the alliance could not be agreed upon. Hence it was not launched in the third meeting. Six logo designs were shortlisted, one of which was liked by all, but some changes are yet to be made in it. The decision on this will be taken in the next meeting. This meeting took place at Hotel Grand Hyatt. In the meeting, President of the main opposition party Congress, Mallikarjun Kharge said that as India becomes stronger, raids and arrests on its members will also increase. Leaders of 28 parties had attended the first day of the meeting on August 31. They had said that they have come together to save the country and the Constitution.
Resolution passed in the third meeting of INDIA
We the members of INDIA pledge to fight the Lok Sabha elections together as far as possible.
The seat-sharing system in the states will start immediately and will be ended soon in a give-and-take spirit.
We the members of INDIA resolve to take out public rallies across the country on issues of public importance.
We the members of INDIA resolve to coordinate our strategies and campaigns in multiple languages ​​with the theme 'Joedega India, Jeetega India'.
Kharge said – INDIA members should be prepared for agency raids
BJP wants complete control over the agencies. As soon as INDIA becomes stronger, BJP will misuse agencies against our leaders. Our strength bothers the government, so it pushed many bills in Parliament and suspended our MPs. The communal poison that BJP, RSS has spread in 9 years is now visible in crimes against train passengers, school children. We should be prepared for more attacks, raids and arrests in the coming months due to the vendetta politics of the government.
These parties are part of INDIA
In alliance Congress, TMC, DMK, AAP, JDU, RJD, JMM, NCP (Sharad faction), Shiv Sena (Uddhav faction), SP, NC, PDP, CPM, CPI, RLD, MDMK, KMDK, VCK, RSP, CPI- ML (Liberation), Forward Bloc, IUML, Kerala Congress (Joseph), Kerala Congress (Mani), Apna Dal (Kameravadi) and MMK.
Last time, 14 out of 26 parties in India were second on 326 seats.
The seat sharing formula is the main issue in the meeting. The consensus is that there should be a strong candidate against BJP. In 2019, the party whose candidate stood second will be considered a strong contender. Last time, 14 out of 26 parties in India, including Congress 209, TMC 19, SP 31, RJD 19, NCP 15, were second on 326 seats. In parties like BJD, YSRC, BRS which are not together, such a candidate will be considered a strong contender, which may not benefit BJP.
Why are SC-ST and OBC so important in the political mathematics of India?
In MP, UP, Rajasthan, Chhattisgarh, Bihar, Bengal, Tamil Nadu, Maharashtra, Kerala and Jharkhand, SC-ST is 26.8% and OBC is about 42%. In these states, Indian parties are in the government or in the role of strong opposition. In the states where Congress is in the fight, work is going on to integrate SC-ST.
Mayawati has been the face of Dalit politics for a long time, but due to her decreasing support base, a space has been created. In the 2019 Lok Sabha elections, BSP, which fought with the Samajwadi Party, got 10 seats (3.7% votes). In 2014, there were 4.2% votes, but not a single seat. In the 2017 Uttar Pradesh Assembly elections, the party got 19 seats with 22.2% votes. In 2022, the vote reduced to 12.9% and the seat remained one. After winning in Karnataka, the Congress is confident of returning the core vote. There are 17.15% Dalit voters in Karnataka. In such a situation, the Congress is projecting Kharge, who comes from the Dalit community, in place of Mayawati. Congress is helping these classes by supporting the caste census. On the other hand, the BJP is in constant turmoil over the caste survey in Bihar.
Aam Aadmi Party leader Arvind Kejriwal did not attend the joint press conference after the first meeting of opposition parties in Patna on June 23. He left for Delhi even before the press conference. After his departure, Aam Aadmi Party issued a statement saying that Congress should clear its stand on the black ordinance of the Central Government, otherwise it will not attend any meeting with him.
26 opposition parties came together in the second meeting of opposition unity held in Bengaluru on 17-18 July. In the meeting, the name of the alliance of opposition parties was decided as INDIA. Congress President Mallikarjun Kharge said- BJP has destroyed all the agencies of democracy like ED, CBI etc. We have political differences, but we have come together to save the country.
In the third meeting of the INDIA alliance of opposition parties, SP chief Akhilesh Yadav, RLD chief Jayant Chaudhary and Apna Dal Kamerawadi president Krishna Patel will present the plan for distribution of 80 Lok Sabha seats in UP. According to sources, in the plan made by Akhilesh, he has kept 60% seats i.e. 48 seats for himself. Whereas it has been proposed to give 40% i.e. 32 seats to other parties.
Source: dainikbhaskarup.com"